GREAT SMOKY MOUNTAINS NATIONAL PARK

Great Smoky Mountains National Park, the most visited National Park in America, has a mystical charm that draws one to explore its depths over and over again.


If only these mountains of Great Smoky Mountains National Park could speak, the tales this majestic mountain range situated deep within the Appalachian Mountains could tell. The park covers a range of 500,000 acres of forest land situated in western North Carolina and eastern Tennessee. The park is beautiful any season of the year with its majestic peaks, rushing rivers, floral and fauna, huge boulders, and cascades of rhododendron and mountain laurel in the spring and early summer.


The beauty of Great Smoky Mountains National Park is displayed in many ways!

Inside the national park, you will see awesome waterfalls, cool mountain rivers, wildflowers, floral and fauna, and the glory of Fall as the tree leaves change to brilliant colors of red, orange, and gold. Autumn's pageantry of colors in the Smoky Mountains usually peaks in mid-October. In late spring and early summer, park visitors can take in the beauty of gigantic cascades of mountain laurel and rhododendron. Some 800 miles of trails thread the whole of the Smoky Mountains natural fabric - and its waterfalls, coves, balds, and rushing streams. Picnic grounds in the park offer a respite retreat with their location next to peaceful streams. Fishing is now permitted in all streams within the park, so bring your rod and reel.

Whatever your pleasure, Great Smoky Mountains National Park offers a respite getaway from everyday life.

Highlights of the National Park
• Roaring Fork Motor Nature Trail
• 25 Fun Things to Do in the Fall
• Cades Cove
• Clingmans Dome
• Fun Things to Do
• Fall Foliage
• History
• Historic Structures
• Park Map
• Outdoor Activities
• Policies
• Scenic Drives
• Waterfalls

101 Things to Do in Great Smoky Mountains National Park

Looking for ideas on what to do while you're visiting the National Park? We have put our heads together and compiled a list of great ideas for fun things to do in and around the Park. Check out our list of 101 Things to Do, or visit our Trip Ideas page for ideas for doing a little exploring beyond the Park while you're here.


101 Things to Do

>

Smoky Mountain Arts & Crafts

The Great Smoky Mountains region is rich in culture when it comes to arts and crafts. Some of the world's finest artisans are located just outside the National Park.

Arts & Crafts

>

Special Events 2018

Great Smoky Mountains National Park hosts a variety of events throughout the year. Nearly 11 million visitors come to the Park every year to enjoy all the amenities the Park has to offer. They love the scenery, easy access to the Blue Ridge Parkway and the nearby towns. With the rich vocal and instrumental traditions of the Southern mountains, concerts and music festivals are a mainstay in the lineup of National Park events -- bluegrass music trumps in this region, and special events and festivals feature this favorite mountain music genre.

Events 2018
Cades Cove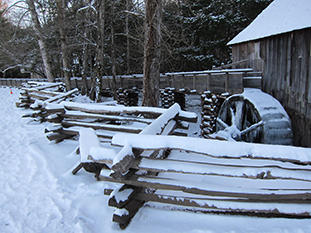 Discover historic structures in
Cades Cove
One of the most scenic places in the National Park is Cades Cove. Here you will find an open-air museum of meadows, rivers, waterfalls, hiking trails, historic structures, and lots of wildlife.
Cades Cove
Click Here to Get Your
Free Visitor Guides
Visit Image Builders's profile on Pinterest.