Cades Cove - Great Smoky Mountains National Park
Cades Cove is a lush valley surrounded by mountains and is one of the most popular destinations in the Great Smokies. This 11 mile loop is a peaceful driving tour and is used for bicycling. Throughout the Cove you will see historic buildings, including rustic log homes of original residents of the Cove, several churches, an old mill, molasses making equipment, and cemeteries.

The eleven-mile loop road follows many of the grades and turns of the old wagon roads, fording a stream now and then. Along the way you are likely to see wildlife: deer and wild turkey year-round; lots of groundhogs in the summer.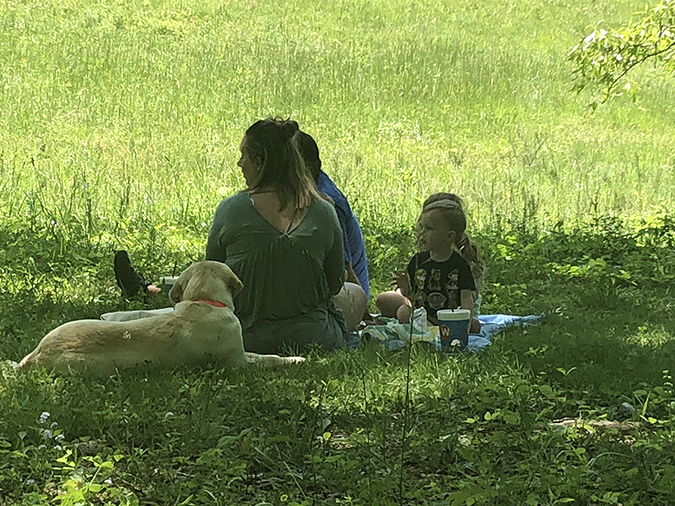 Picnicking alongside Cades Cove Loop Road. Image by Jeaneane Payne


Carriage rides and hayrides are offered at the Cades Cove horse concession.

Tour Cades Cove on a comfortable 19-passenger Educational Touring Vehicle with an experienced and friendly guide. Learn all about the history, personal stories, and natural resources that make Cades Cove so unique. And, since you've left the driving to us, you can finally focus on sharing the beautiful scenery and wildlife with your family and friends, instead of worrying about the brake lights in front of you. Reservations

Bicycles rentals: Available from April through October and in December. From approximately May 5 to around September 22, the loop road is closed to motor vehicle traffic on Wednesday and Saturday mornings until 10:00 a.m. to allow bicyclists and pedestrians to enjoy the cove.

Horseback riding is seasonally available from near the loop road entrance. Daily hayrides offer another great way to see the Cove.

A campground store is open from 9:00 am to 5:00 pm in spring and fall. It remains open to 7:00 pm in summer.

Cades Cove Cultural History

Historic Structures in Cades Cove:
Blacksmith Shop
Cable Mill
Cades Cove Methodist Church
Cades Cove Missionary Baptist Church
Cades Cove Primitive Baptist Church
Cantilever Barn
Dan Lawson Cabin
Elijah Oliver Cabin
Gregg-Cable Cabin
Henry Whitehead Cabin
John Oliver Cabin
Shields Cabin
Tipton Place

Cades Cove was part of the Cherokee Nation prior to 1818. The Cherokee never lived in the Cove, but they used it as a summer hunting ground. Arrowheads are common throughout the Cove.

In sum, the "good life" in the Cove was realized through industry, frugality, neighborliness and loyalty.

The Cades Cove Visitor Center is open daily, except in winter when it is open on weekends. Cultural history displays are integrated with sales items. Orientation information is also available.

Man became part of Cades Cove beyond reach of human memory. Indians hunted here for uncounted centuries, but hardly any sign of them remains. White settlers followed the Indians to the Cove, and their sign is everywhere: buildings and roads, apple trees and fences, daffodils and footpaths. Cades Cove is an open air museum that preserves some of the material culture of those who last lived there.

The eleven-mile loop road follows many of the grades and turns of the old wagon roads, fording a stream now and then. Along the way you are likely to see wildlife: deer and wild turkey year-round; lots of groundhogs in the summer.

The cattle grazing here help to keep the cove from returning to forest. Please do not climb over fences or leave gates open. Do not drive on or in the fields. Remember, it is unlawful to feed wildlife.

What You Don't See in Cades Cove
| | | |
| --- | --- | --- |
| | | |
| Cable Mill | Cable Mill | Missionary Baptist Church |
| | | |
| Snow capped mountains | Gregg Cable House | Deer grazing in the field |
| | | |
| Coyote | Cable Mill | Horses in Cades Cove |
| | | |
| Fall Foliage | Cades Cove Loop Road | Fall Foliage |
| | | |
| Deer Tracks in the snow | Black Bear | Relaxing in a Field |